Photo galleries
Skydiving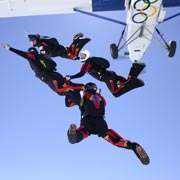 Skydive Kent
-
Photographs by
Nigel Rowlan
Headcorn Formation Skydiving
4 way FS photographs - Headcorn Parachute Club teams.
Jan 20 2006
There's a whole range of FS skill among us at Headcorn. Some of us turn up at the weekend, see the same faces and jump together, others look around can't be bothered with all this stuff and just jump and have fun.

And then there are those who choose to add just that little extra effort and try to make something more than just a scratch dive again. The best way of achieving this is to do 4 way and forming a team allows you to have an objective like doing the Nationals, at the same time as increasing social bonding.
Adding organisation to your FS – making a 4 way team!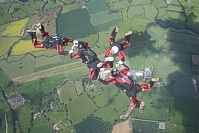 Best FS photos
Best photographs

This is a collection of the best photos, compiled from all the 4 way teams at HPC that i have jumped with.
S-Sense

Ritz Pixies

Zygosis

Psychosis