Photo galleries
Skydiving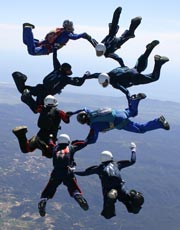 Skydive Kent
-
Photographs by
Nigel Rowlan
N-RA 8 way FS team
2004 to 2006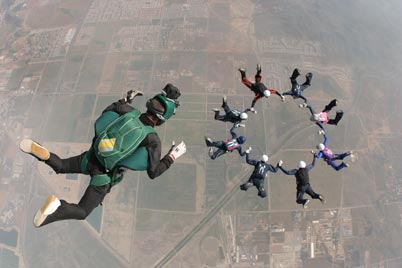 NRA in Perris 2006 - photo by Craig O'Brien
2004 – Elsinore California

2005 – Netheravon 8 way team

Bronze in 8 way seniors

Winners - JSPC speed 8

2006 – Netheravon and Perris
Dec 14, 2006
Formation skydiving videos - 2006.

Recently added - NRA The Movie, (Dave's compilation) and all the jumps from the 2006 Nationals.
8 way FS movies: Our FS video clips, 2006
September 2006
UK Nationals, August 2006
We trained at Hib for a couple of days before the Nationals, this helped to get used to the exit from the Dornier G92.
Connextion were going to beat us, likely VOM as well, there was a battle for bronze between ourselves, Sounds Grrr8 and maybe one other team. This was to be our battle, third place which we would have been overjoyed to achieve considering the work we had put in and the way we were flying, alas it wasn't to be!
Sounds Grrr8 started well and scored better than us in the beginning. We both made mistakes and they maintained the lead for a few rounds but their average gradually fell and we caught up, we were neck and neck and finally we over took them in the last few rounds. In the mean time another team had come from 5th place to beat us both by just a couple of points, we got 4th position and respect goes to Sounds Grrr8 who were damn decent rivals for NRA.
July 2006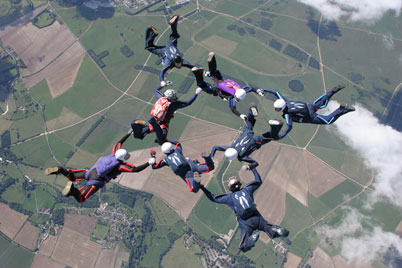 NRA training at Netheravon
Training in 2006 at Netheravon and Perris
Before the Nationals, we returned to Perris for our second training camp. Although we did some work in the tunnel while we were there, the key objective was to train for competition and we executed a couple of mock competitions. Gary Beyer coached us this time while Dan BC coached Airkix, (the 4 way British world champions) and Connextion (the 8 way UK national team).
We maintained a very consistent attitude and performance with a score of 8, in fact before and after the camp we were showing good consistency. Connextion were scoring 12 and were ahead of us, we knew they were going to beat us in the Nationals it obviously wasn't a problem for either of us.
Both Perris trips were a complete success in every way. I would have preferred to have gotten some exit shots but practising trailing exits was far more important to us, for me the learning continues and still does, just the same for the rest of the team.
I also learnt to land properly during this camp, poor Elana broke her ankle trying to compete with Jan's tear at Elsinore the previous year - thank god she made it to the Nationals to jump with us.
Back in the UK Mark Whitehead of VNE led the way and coached us, all through the year, at Netheravon during our training weekends and also at the tunnel, up until the Nationals were complete.
May 10, 2006
NRA training camp at Perris Valley, April 2006
After much deliberation, this year we agreed to go to Perris to train. This was a very sobering camp and we each performed to the best of our standards as a team - absolutely no passengers! I enjoyed working on this camp more than any I have ever been on, and staying sober when your working this hard and getting results is great fun. Dan BC coached the 8 way, he doesn't actually say a lot to camera flyers, is there a reason for that?
Perris is fantastic and has got to be the best dz in the US, attitude is way up there and I loved every minute of it, except for the landings. Despite working mainly on video, I managed to get some freefall stills on the last 3 jumps on the very last day...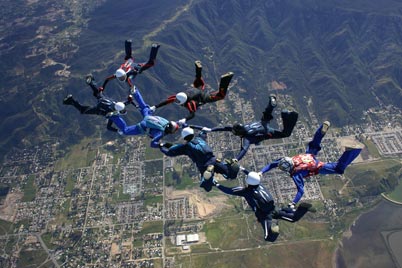 Double satellite, NRA jumping in Elsinore 2005
Finish of 2005
NRA 8 way - about the team
N-RA, Non-Resident Aliens, started as a social group of skydivers in 2001 with a 16-way camp at Skydive Elsinore in California. Over the next couple of years and a few more social trips to Elsinore we found that we really enjoyed jumping together, and wanted to put our energies into something more productive than just fun jumping... 8-way!
8-way is fun, there is no two ways about it! It is skydiving's hidden jewel. Although most skydivers will be more familiar with 4-way, there is something less frenetic, more technical, about 8-way that appeals to us as a group. With formations twice the size of a 4-way, there is a huge emphasis on communication and precision in the air.
In the UK we train at JSPC Netheravon. Originally, team members came from Netheravon, Headcorn and Weston on the Green. We chose JSPC Netheravon because it's is a great DZ for teams. The facilities are terrific, with good aircraft, an exit altitude of 13,000ft, good food, and a great bar!. It is well run by the APA, and they really look after us on team weekends.
2005 was our first year of competing at the UK Nationals. The weather got just about everybody on the DZ down. The 4-way competition from the previous weekend was still in progress, so it was really busy. It was hard to concentrate. We ended the competition in bronze medal position, but with some teams not competing due to 4-way commitments, it was a bit of a default! What it did give was a base to work from for 2006. After the Nationals, we entered the Army Championships Speed 8 at Netheravon, which is always great fun. After a really close competition, we managed to beat the JSPC staff team by one point, taking first place out of nine teams that competed.
More NRA galleries