Photo galleries
Skydiving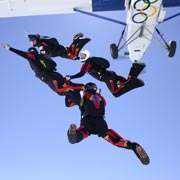 Skydive Kent
-
Photographs by
Nigel Rowlan
Psychosis 4 way formation skydiving team
Jan 20 2006
Psychosis were – Dan Rofe, John Ashton, Michelle Theobald, Steph Lawlor and Nigel Rowlan on camera. We trained and jumped in 2004 and it was at Lapalisse in France, with Rob standing in for Dan, where I took my favourite photo.

I have vivid memories of that jump, the excitement of jumping out of the tailgate, and for the first time with camera. Watching my beloved mates getting ready for exit. Behind them a couple of free flyers completely in a world of their own chatting about something. We left and I fired the trigger release to take that picture. I was so happy when I got down and checked the image and it was exactly as I remember it.

At the Nationals I broke my arm due to a bad landing. Fortunately Andy Wright agreed to film the team for me. Thanks, Andy.


That was it for me – no more jumping until Christmas in Eloy....